Fitness Model, Social Media Personality
Vick Justiz is a half-Russian, half-Cuban actress, songwriter, and fitness star. She's become known for her workout videos and guides, inspiring masses of followers to lead a healthy lifestyle.
Born and raised in Russia, Vicky moved to the United States at the age of six, in 2001. Shortly after, Vicky started a career as an actress; appearing in American movies and TV series.
Alongside her passion for acting, Vicky also gained experience as an avid dancer, and songwriter.
As she entered her early 20s, Vicky became highly involved in the fitness lifestyle; working out daily and eating the right foods sounded appealing to Vicky, so she started a career in fitness by posting videos of her working out online.
Over the years, she gained attention for her videos, and also, her incredible figure; attracting an army of followers on social media.
Training Anywhere
Vicky has many workout videos online, which show her training at home, using what she has available – to achieve the best possible result on her physique.
Many people took a liking to this simplistic approach; quickly endearing themselves with Vicky. In turn, she began uploading even more videos related to at-home workouts, and body weight exercises.
However, while Vicky loves the simplicity of at-home workouts; she always prefers weight training, if weights are available.
As a result, this half-Russian, half-Cuban fitness model sculpted her amazing figure through weight training – and later, successfully using body weight exercises to keep her muscles firm and lean.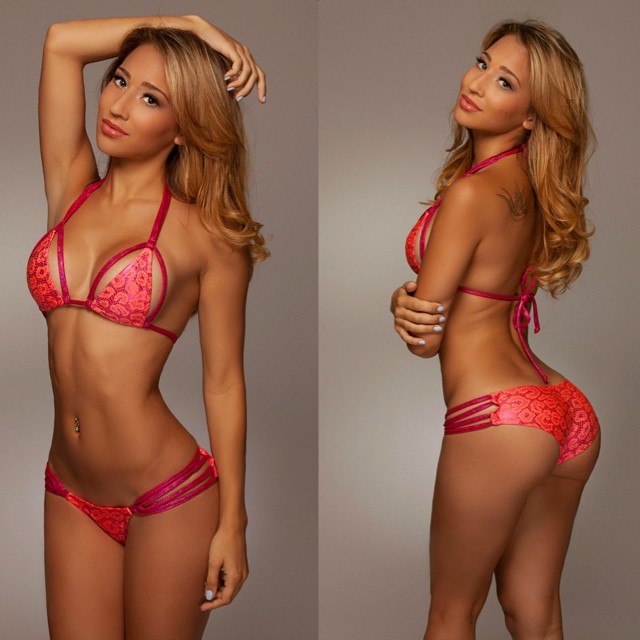 People ask me all the time if fitness is my passion, and frankly, it's not. What I am passionate about is empowering others, sharing my knowledge, living a happy life and inspiring others to do the same. Fitness is just a vessel that allows me to practice all of these passions.
When I began exercising, my focus was always on LOOKING a certain way. But I was truly shocked with how much moving my body had impacted my mental health and overall happiness. Staying active allows me to feel like my best self, and this is a feeling I want everyone to feel.
My goal is to show women all around the world that living a "healthy lifestyle" does not have to be boring, bland, or feel like a punishment.